Mark your calendars (and rego soon!) for Camp Hash 2016! We're heading to the Hope area camping spot this year!
This years patch is below! Thank you Minnesota Goat Fucker for the likeness and Perverazzi for making the sign in the first place.
Only the FIRST 36 REGOS GET WHITEY TIGHTEY SHIGGY SOCKS!
I believe everyone that attends will get the most beautiful patch I've ever laid (giggity) my eyes on.
We currently have the following wankers ready for a full on weekend of _unning trail, camping out, eating like kings and building fires like drunken magicians:
(in no particular order)
1. Boobies In The Window
2. Ho White and the 7 Dwarves
3. Nacho-Ass
4. Spanky The Clown
5. I Want Anal, *STOMP*
6. Jabber Wookie
7. There's a Breastpump in my Cockpit
8. Does The Finger Count?
9. D.O.A.
10. Mouthy Bitch
11. Bet He Crocked Her
12. Strummin' N' Cummin'
13. Swoobs
14. Rol'a'Dix
15. Red Blood Gives You Wings
16. TABC
17. Unholy Nipples
18. Subaru In My HooHoo
19. 8 Is Enough
20. Colorado Steamer
21. The Nut Wrangler
22. Uncle Bondage, Esquire
23. Struggle Snuggle
24. Cuntsuela
25. Banana Nut Bred
26. "your name here"
27. "or here"
.
.
.
37. "Or here, but you won't get those super duper whitey tightey shiggy socks" 🙁
The rough sketch done by our wonderful Strummin' N' Cummin'.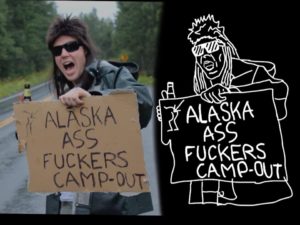 Behold! The finished product! Rego and claim yours!